Critically Endangered Species addresses soil as the living habitat of species that depend on its wellbeing. The project evolves during the Soil Matters exhibition as an artistic studio practice in the Soil Laboratory. The project follows the "Finnish Red Book" (The 2019 Red List of Finnish species), by the Finnish Environment Institute SYKE on the viability of species in 2019. The book presents 36,604 species, 22,416 of which were identified as currently threatened. Among these threatened species, 489 species have been listed as critically endangered.
According to The Red Book, the decreases of specific species are caused by the changes in their habitats. The species selected for the paintings, such as algae, mosses, vernacular plants, insects and lichens, are related in one way or another to land and land-use, such as construction or mining activities.
The concept of the project was developed in a group discussion led by ceramic artist Maarit Mäkelä, together with ceramic artist Catharina Kajander and designer Tzuyu Chen in June 2020. Later in August, Maarit Mäkelä contributed to the making of the first prototype, which was painted with one of the critically endangered lichens named Acarospora oligospora.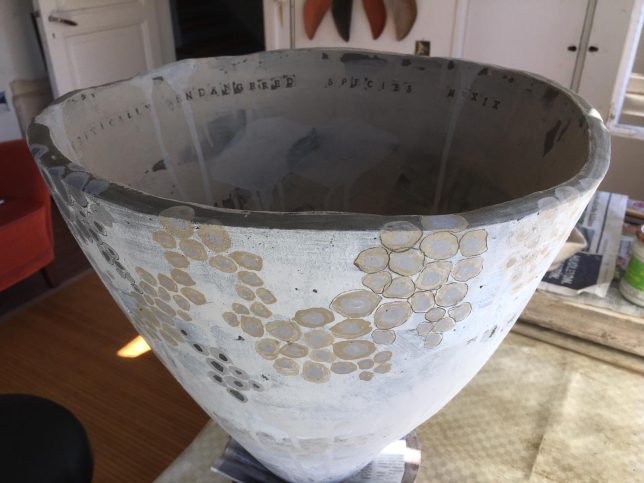 Artist-in-residence in the Soil Laboratory
From September 2020 until the 10th of January of 2021, the artists perform their studio practice in the Soil laboratory. During the residency period, large ceramic pots are built on-site by ceramic artist Catharina Kajander. She uses the traditional coiling technique to form large pots with red earthenware clay from Somero, sponsored by Kultelan Tiiliputki in Finalnd. Later, the selected species from the critically endangered category are painted on the surface of large red clay pots.
In this project, the colours used for painting are processed from soil samples collected around Finland, most of which are obtained from the Soil Stories project. The processing of the materials and the fired ceramic test pieces are performed by Tzuyu Chen.
As the research evolves, the project is influenced by the open-ended character of collaboration and shared creative practices. While the artists work side-by-side, the creative process expands through discussions and knowledge sharing, such as negotiating on the forms of the pots, the choices of materials for painting, or even the way of decorating and painting. Following the documentation of the process, the influences that emerge through such generative practices can be traced in each of the practitioner's work. The topic of critically endangered species has built rapport with the team, allowing each practitioner to explore the topic through conversations, material engagements, and personal stories.
The videos shown below capture the painting process of two artists.