Tzuyu Chen
2019-2020
Cover Photo: Reflecting the human-soil-relationship in Tzuyu Chen's Soil Care workshop. Photo: Tzuyu Chen
In this design research project, designer Tzuyu Chen, raised in Taiwan, seeks to establish conversation about the interaction that exists between soil and the people who care for it. Chen first collected soil from various environments in Finland and processed them into ceramic materials. She then asked people who work with soil in various roles to attend a one-on-one workshop in which the participants processed both the material and their own relationship with soil. In the exhibition, you can hear an archaeologist, a biodynamic farmer and a construction engineer discuss their relationship with soil. In addition to the interviews, the exhibition features soil specimens collected during the process and objects created in the workshops.
Think about the soils that sealed by asphalt under our feet, the smell of fertility in the air, or a shovelling archaeologist unearthing the story of the landscape. Different people indeed attach different significance toward the soil. But why should we care? In order to reclaim a lost connection between humans and soils, designer Tzuyu Chen collaborated with five people who attached different relationships with the soil.
"During each visit, I was able to gain a deeper understanding of the relationship between humans, soils, and landscape by tracing the material back to the local environment while working with the people who are closely related to such place." – notes by Tzuyu Chen.
In this project, local soils have been gathered from three different locations of the Finnish landscape: a construction site in Vuosaari, the Majvik biodynamic farm in Sipoo, and one Stone Age archaeological site in Espoo. Later, these gathered soils were processed to make material for the sensory workshop where Chen conducts a five one-on-one interview with the follow soil-related collaborators: Atte Hermansson, Farmer, Majvik-Biodynamic Farm; Catharina Kajander, Ceramic Artist; Jan Fast, Archaeologist; Minna Hirvikorpi, Procurement Engineer, Vuosaari Construction site; Stephan Mantel, Soil scientist, Head of the ISRIC World Soil Museum and Curator. The several crafted artefacts were made during each sensory workshop by the collaborators are profoundly connected to the environment where these soils are from and the people who care for it. Chen considers craft making is a practice that embodies care, therefore the workshop invited the people involved in the gathering of the soils, who have a close relationship with soil and are soil-related practitioners from different fields.
Sharing different perspectives on the concept of "care for soil", the Soil Care project invites the audience to reflect on their relationship with soil–What does the concept "soil care" mean to you? How could humans take better care of soils?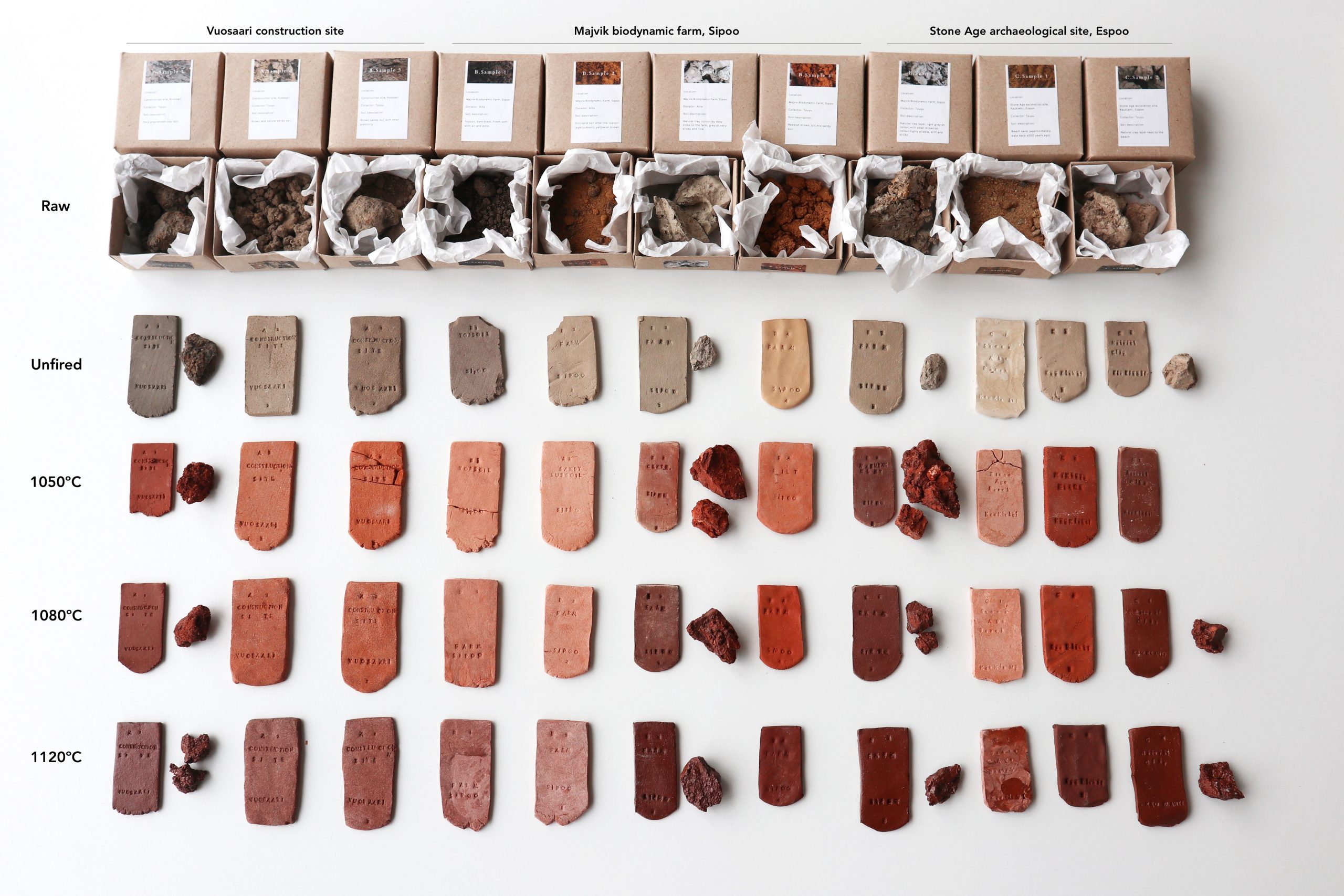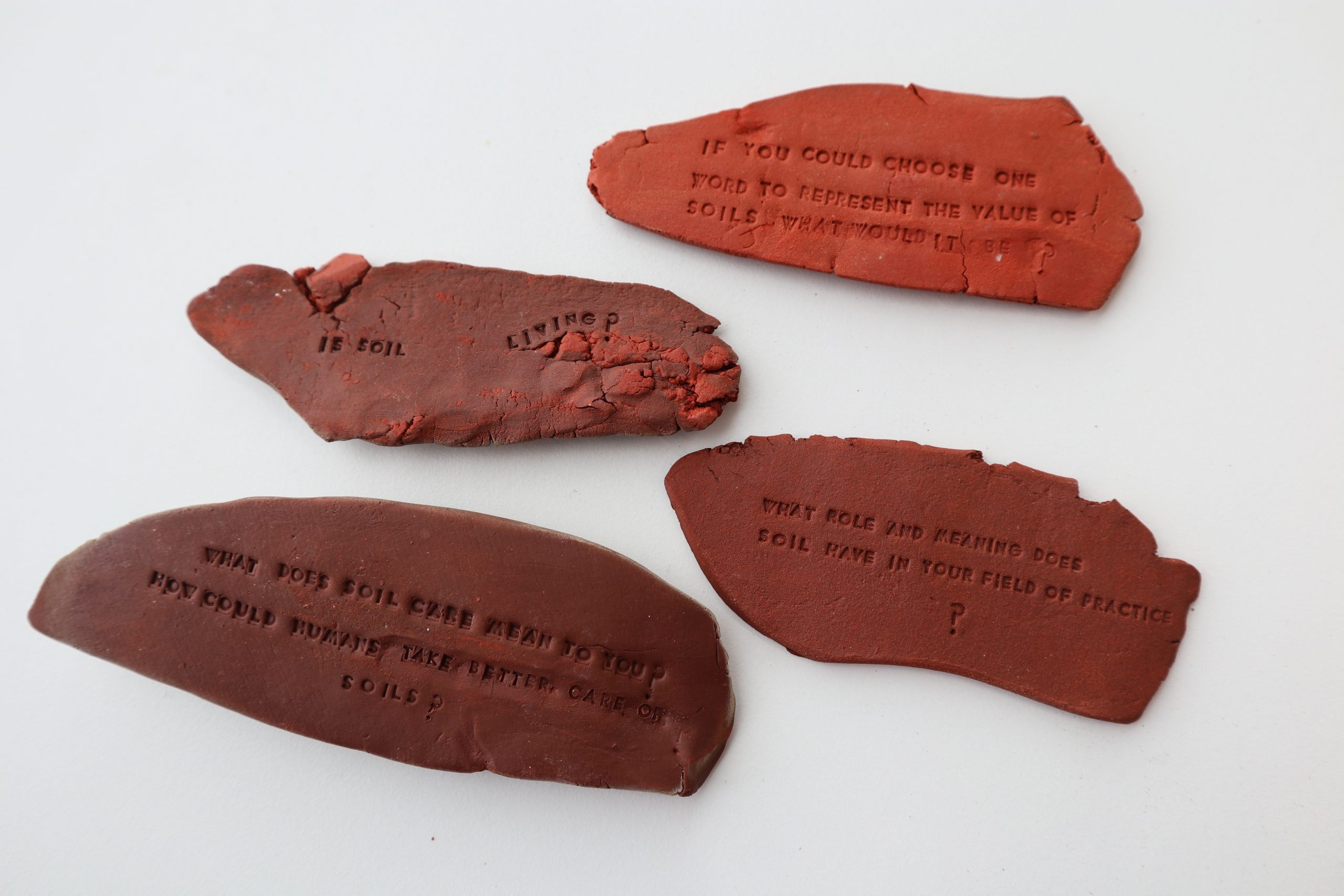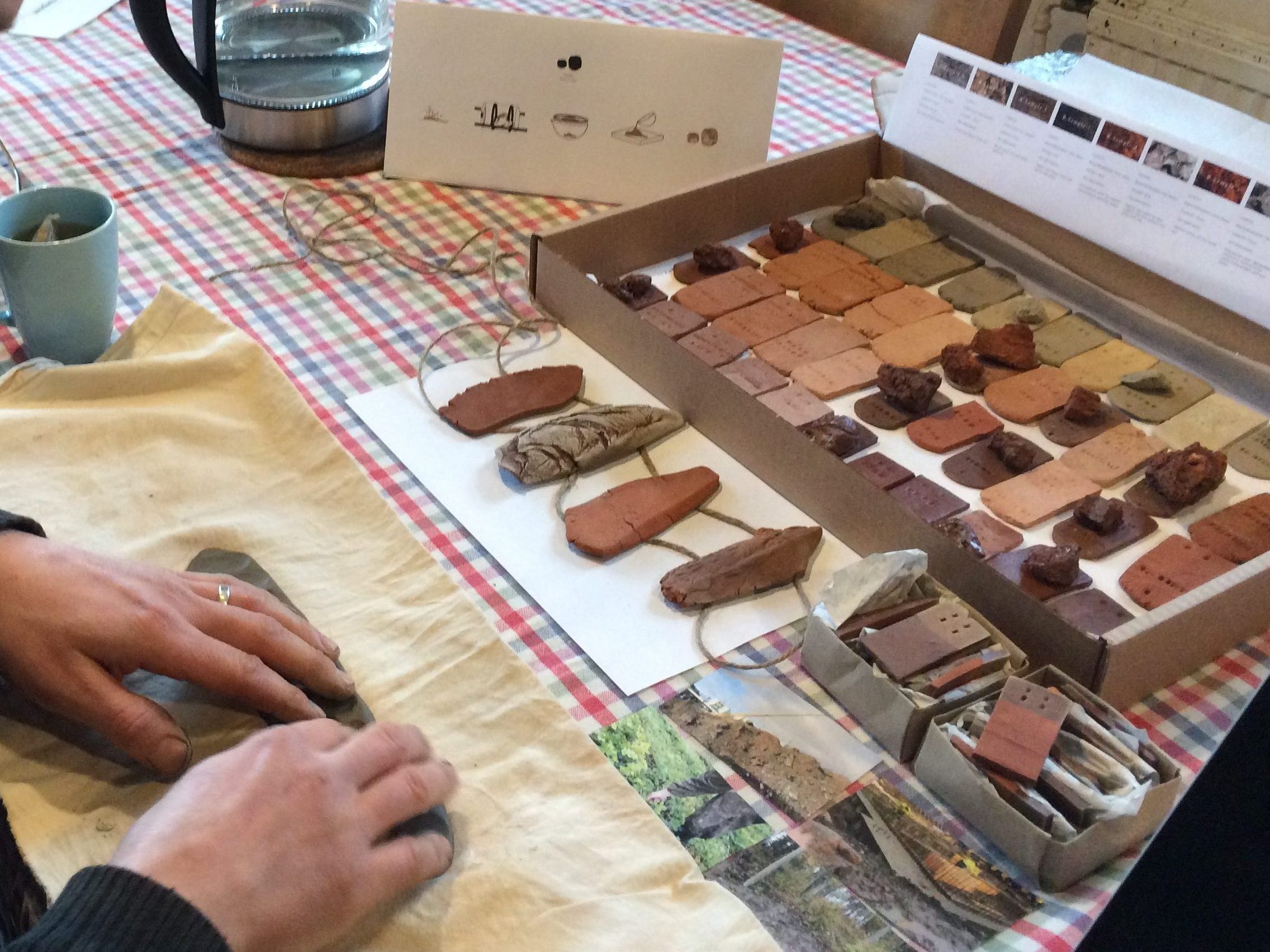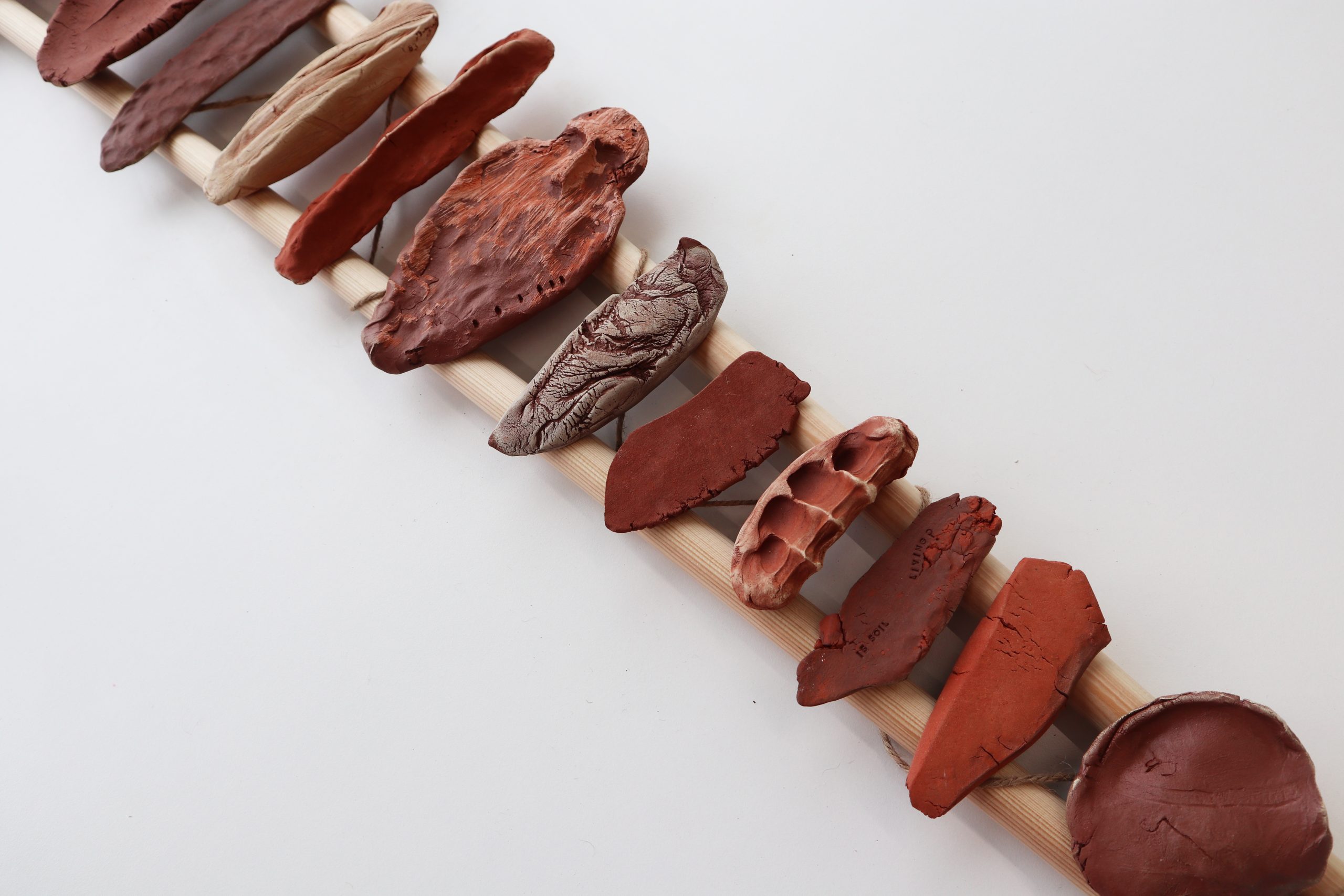 ---
Soil Care: Symphony Rehearsal Interviews (English / Finnish)
Interview with: Procurement Engineer, Minna Hirvikorpi; Archaeologist, Jan Fast; Farmer, Atte Hermansson.
Transcript editors: Suvi Saloniemi, Maarit Mäkelä, Minerva Juolahti, Tzuyu Chen.
---
Interview with Procurement Engineer
Haastattelija / Interviewer: Tzuyu Chen
Haastateltava / Interviewee: Minna Hirvikorpi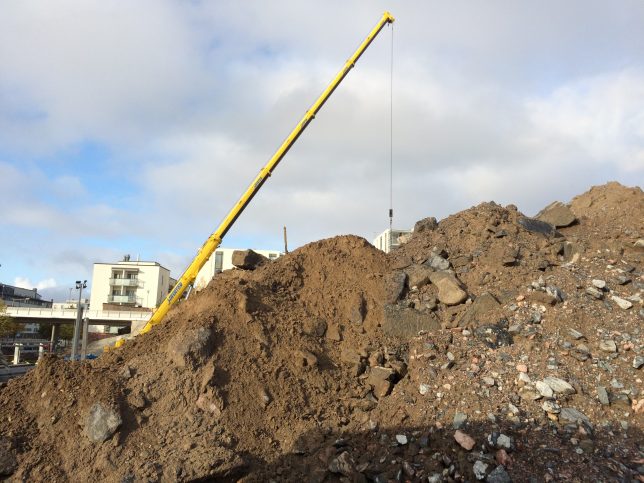 Now we are doing that school over there. In May, when they started doing that construction work, I was not on the site. But I was there visiting before they started. And I realised that that place was not so nice. And now, when I know what kind of buildings there will be, I think it is going to be better. The place is better after the buildings are built, because that place was not so nice, it was like a junk ground.
In construction work soil has many roles. In the first place we have to know what kinds of soils there are on the site, so that we know what kinds of buildings we can build there, and what kind of construction bases do we have to have, so that the place is suitable for the building. For example, in our site, there are these piles of soil. If the soil is different, if there is not that clay, but if there would be sand, then we could do it in another way. Then it would be by the way much cheaper.
Also, when we build roads, railways and other things, we have to take care of the areas where we built. We have to take care that the nearby areas are also done nicely and with care. So, we don't ruin that area.
Because the question is it ruined, or it is nicely done is in everybody's minds, we have to do it in the way that we see is the best. Because we have to do compromises all the time. But our designers and people who work with these things, they every time also think about the soil and how we can do the environment.
Is soil living? I think it is in some way living. But not now, when you have burned it, but before, in the first touch when you take it from outside. I think it is somehow living.
[If you could choose one word to describe the value of soil, what would you choose?]
First one that came in mind is precious.
I think that might be this kind of thinking. If you have not seen beautiful forests and landscapes, then you don't know. If you have been raised in a big city or in places like this, then it's a little bit different. Because I have now seen some a really big cities and these are really different than here in Finland.
Rakennamme nyt koulua tuonne noin. Kun työt aloitettiin toukokuussa, en itse ollut paikalla. Kävin paikalla ennen töiden alkua. Ymmärsin silloin, ettei paikka ollut kovin hieno. Nyt tiedän, millaisia rakennuksia paikalle tulee, ja muutos on mielestäni parempaan suuntaan. Kun rakennukset valmistuvat, paikasta tulee parempi, koska se ei ennen ollut kovin hieno, enemmän kuin kaatopaikka.
Rakentamisessa maaperällä on erilaisia rooleja. Meidän täytyy ensinnäkin tietää, millainen maaperä rakennuspaikalla on, jotta tiedämme, millaisia rakennuksia siihen voi rakentaa ja millaiset perustukset ovat sopivat. Tällä tontilla on esimerkiksi maaperän kasautumia. Jos maaperä olisi erilainen, jos siellä ei olisi savea, vaan hiekkaa, voisimme tehdä sen toisella tavalla. Silloin se tulisi muuten myös halvemmaksi, paljon halvemmaksi.
Ja kun rakennamme teitä, rautateitä ja muita, meidän täytyy huolehtia alueista, joille rakennamme. Meidän täytyy huolehtia, että lähialueet toteutetaan myös hienosti ja huolellisesti. Niin, etteivät alueet mene pilalle.
Kaikkien mielessä pyörii kysymys, onko lopputulos onnistunut vai pilalle, joten meidän täytyy hoitaa asia parhaaksi näkemällämme tavalla. Joudumme myös jatkuvasti tyytymään kompromisseihin. Suunnittelijamme ja näiden asioiden parissa työskentelevät henkilöt ajattelevat kuitenkin joka kerta myös maata ja mahdollisuuksiamme tehdä jotain ympäristön hyväksi.
Onko maa elävää? Kyllä se mielestäni on jollain tapaa elävää. Ei enää tässä, kun se on poltettu, mutta aiemmin, kun siihen kosketaan ensimmäisen kerran ulkona. Mielestäni se on jollain tapaa elävää.
[Jos voit valita yhden sanan kuvaamaan maan arvoa, minkä valitset?]
Yksi sana… Ensimmäisenä mieleeni tulee "arvokas".
Ehkä kyse on siitä. Jos ei ole nähnyt kauniita metsiä ja maisemia, ei voi tietää. Tilanne on erilainen, jos on kasvanut suurkaupungissa tai vastaavassa paikassa. Ymmärrän sen, sillä olen nähnyt joitain todellisia suurkaupunkeja, jotka ovat aivan erilaisia kuin täällä Suomessa.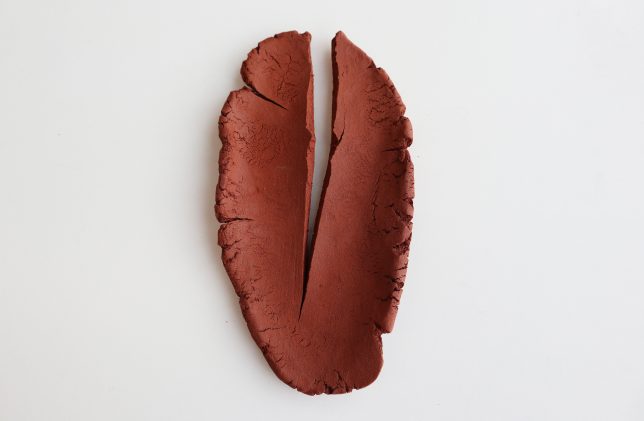 ---
Interview with a Farmer
Haastattelija / Interviewer: Tzuyu Chen
Haastateltava / Interviewee: Atte Hermansson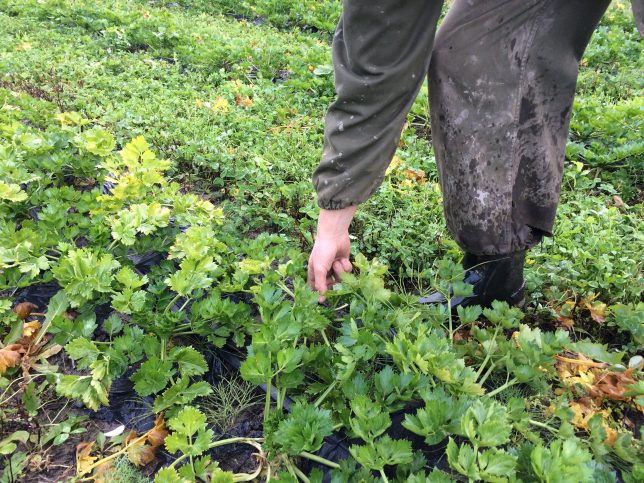 Is soil living? Yes. Soil is living. There is a lot of life in the soil which we don't know very much about yet. Especially in the topsoil, where there is microbial activity and more organic material. But I think there is also life in the deeper soil, in the mineral soil.
[If you could choose one word to describe the value of soil, what would you choose?]
It is of outmost value, it is invaluable.
Because we all live from the soil. Without the soil, we don't have food, there is no life.
What role and meaning does soil have in my field of practice? It is the most important thing we have, it is the medium in which our plants grow.
In biodynamic farming we try to have a cycle of nutrients, and a cycle of organic matter.
I work a lot with the soil most of the year, in fact the whole year almost. If I don't work with the soil, then I think about the soil. I have an important relationship with the soil.
For me, it means a lot. The fundamental part of my work is to take care of the soil. It means a lot to me. It is a work of art, good soil is something you build up, and it is something I strive for, and it is my work to take care of the soil.
I give back organic material, I give compost, and I give good care. I plant the plants that grow on the soil. I try to also have plants that improve the soil. When the roots go deep it can help the soil.
Humans should see the value of the soil and its importance, and to realise that it is not only something you can take from, you also have to give something to the soil, otherwise we will be in trouble in the long run.
Onko maa elävää? Kyllä. Maaperä on elävä. Maaperässä on paljon elämää, josta emme vielä tiedä juuri mitään. Erityisesti maaperän pintakerroksessa, jossa on mikrobiaktiivisuutta ja enemmän orgaanista ainesta. Mutta uskon, että elämää on myös syvemmällä, kivennäismaassa.
[Jos voit valita yhden sanan kuvaamaan maan arvoa, minkä valitset?]
Se on äärettömän arvokas, se on korvaamatonta.
Koska me kaikki elämme maasta. Ilman maata meillä ei ole ruokaa, eikä elämän edellytyksiä.
Millainen rooli ja merkitys maalla on omalla alallasi? Se on tärkeintä, mitä meillä on. Se on väline, jonka ansiosta kasvimme kasvavat.
Biodynaamisessa maanviljelyssä pyritään ravinteiden ja orgaanisen aineksen kiertoon.
Työskentelen maan parissa suurimman osan vuodesta, itse asiassa läpi vuoden. Jos en työstä maata, ajattelen sitä. Suhde maaperään on minulle tärkeä.
Minä annan sille orgaanista ainesta, kompostia ja huolenpitoa. Istutan kasvit, jotka kasvavat maaperästä. Yritän myös valita kasveja, jotka parantavat maaperää. Syvälle kasvavat juuret voivat auttaa maaperää.
Sillä on minulle suuri merkitys. Maaperän hoitaminen on perustavanlaatuinen osa työtäni. Se on minulle tärkeää. Se on taiteen laji, sillä hyvä maaperä syntyy rakentamalla ja se on tavoitteeni. Maan hoitaminen on minun työtäni. Ja se on minulle tärkeää. Ihmisten pitäisi nähdä maaperän arvo ja tärkeys sekä ymmärtää, että siitä ei voi vain ottaa, vaan sille täytyy myös antaa jotakin. Muuten joudumme vaikeuksiin pitkällä tähtäimellä.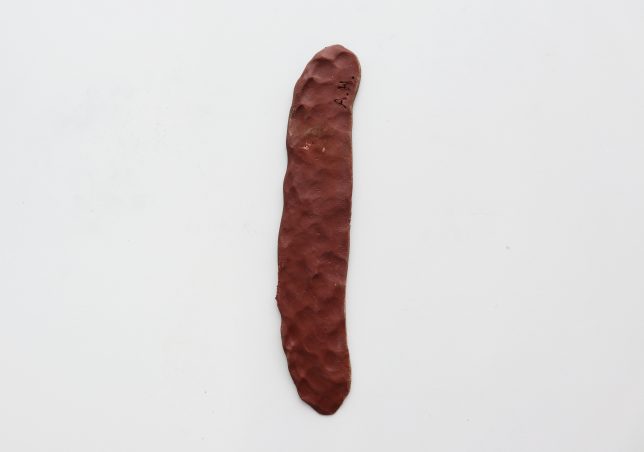 ---
Interview with an Archaeologist
Haastattelija / Interviewer: Tzuyu Chen
Haastateltava / Interviewee: Jan Fast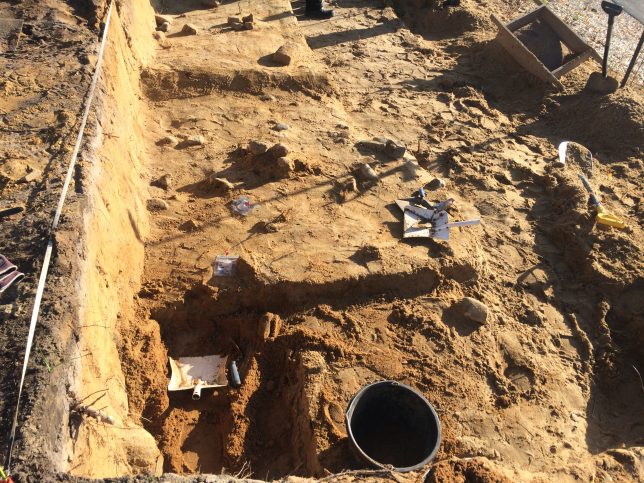 If you could choose one word to represent the value of soils, what would it be? One word. First: birth. Old. Like common heritage. Beginnings of everything.
Soil is everywhere and in everything in my practice. In the end, is in my clothes, in my pocket, in my eyes, and under my fingernails.
Soil is essential to my work as an archaeologist, because the archives I dig into are in the soil, they are covered by different layers of soil. But soil is also present in the artefacts, especially of course in the pottery of the sites, and through that I am interested in the soils as a way of understanding Stone Age technology in pottery making and such. Soil as part of the landscape is also important, especially sandy soil when it comes to Stone Age habitation in Finland. The settlement where usually on beaches, sandy beaches in particular.
The concept of soil care is of course not very familiar to me. I understood that it is a large concept and very important even internationally. But if I first think as a normal human being, I think soil is probably the most concrete thing after air that you encounter every day in your life, from childhood, especially during childhood, and in the end of course you are buried in, so why not take care of it. But generally speaking, I don't think people are so aware of soil as a material to take care of, I think people think more about air.
Soil also works in a negative way in my profession because it eats up the human remains and artefacts, and it destroys things, because the Finnish soil is acidic.
So, soil is also a destructive element but it's also a protective element, because the items are in it and they are protected by the layering of soil.
And it's interesting that as part of the archaeological profession, when it comes to the objects, we try to get rid of the soil that covers the objects, even to a degree that the object itself loses a lot of its appeal when it's cleaned to the core. I thought about that we should actually leave, I think, some of the dirt on the items, just to make them more representative.
Is soil living? Kind of. It is constantly changing and it's moving, it's smelling. Like every living thing, it has those characteristics. I wouldn't go so far that it's living, but it's part of life.
Soil is in constant change, is not a steady thing. It was accumulated in Finland during the Iron Age; all older layers of soil have vanished, so the oldest possible remains including the bedrock of Finnish habitat are from there. And why not take care of soils and understand their real meaning as part of the history and the geology of this country. Especially in Finland, where the situation regarding building and construction is quite good, we have large areas that are well-preserved I think, it should be maybe a question for now, when we have the time, to really start thinking about which areas and which kinds of soils, and where we should bring forth the idea of taking care of the soil. So, soil care is a huge concept, but I think already informing people about the need to take care of the soil, it is not automatically preserved. To raise the general awareness of the soil would probably help to better take care of the soil in the future.
Yes and it's not something I just imagine here, it's something I have to think about in my work when I see constant change, and of course, change can't be stopped and it's not a good idea to overemphasise the Ice Age or the old stuff, but you should also remember the new situations and try to adapt to them. I'm so aware of seeing change in my work and eras disappearing and vanishing in days or even in hours. So, this is an important topic for me.
Jos voisin valita yhden sanan, joka kertoo maaperän arvosta, mikä se olisi? Yksi sana. Ensin: syntymä. Vanha. Yhteinen perintömme. Kaiken alku.
Maata on kaikkialla ja kaikessa siinä, mitä teen. Loppujen lopuksi sitä on vaatteissani, taskussani, silmissäni ja kynsieni alla.
Maaperä on erottamaton osa arkeologin ammattiani, koska kaivausteni arkistot sijaitsevat maaperässä, sen eri kerrokset peittävät niitä. Maaperä on esillä myös esineissä, erityisesti tietenkin kaivauksissa löytyvissä keramiikkaesineissä. Sen myötä olen kiinnostunut maalajeista keinoina ymmärtää esimerkiksi kivikauden keramiikanvalmistustekniikkaa. Maaperä on myös tärkeä osa maisemaa, Suomen kivikautisen asutuksen osalta erityisesti hiekkapohjainen maaperä. Asumukset sijaitsivat yleensä ranta-alueilla ja erityisesti hiekkaisilla rannoilla.
Maaperän hoitamisen käsite ei tosiaan ole minulle erityisen tuttu. Ymmärrän, että se on laaja käsite ja erittäin tärkeä myös kansainvälisesti. Mutta jos ajattelen asiaa ensin tavallisena ihmisenä, maaperä on luultavasti ilman jälkeen konkreettisin asia, jonka kohtaa arjessa lapsuudesta alkaen, ja ennen kaikkea lapsuudessa. Ja lopuksi tulee haudatuksi sinne, joten miksi sitä ei hoidettaisi. Yleisellä tasolla en kuitenkaan usko ihmisten olevan erityisen tietoisia maaperästä asiana, jota täytyy hoitaa. Ihmiset ajattelevat ennemmin ilmaa.
Ammatillisesti maaperällä on myös negatiivinen vaikutus, sillä se tuhoaa ihmisten jäännöksiä ja esineitä, vahingoittaa niitä. Suomessa on hapan maaperä.
Maaperä on siis tuhoava elementti, mutta myös suojeleva elementti, koska esineet ovat sen sisällä ja maaperän kerrosten suojassa.
On myös kiinnostavaa, että osana arkeologin ammattia, jos ajatellaan esineitä, me yritämme kovasti päästä eroon niitä peittävästä maa-aineesta. Merkittävä osa esineen viehätysvoimasta saattaa kadota tämän pyrkimyksen vuoksi, kun se puunataan putipuhtaaksi. Mietin sitä, että oikeastaan meidän pitäisi minun mielestäni jättää esineisiin hieman multaa, jotta ne olisivat kuvaavampia.
Onko maa elävää? Tavallaan. Se muuttuu jatkuvasti, liikkuu, haisee ja muuttuu lämpötilan ja sääolojen mukaan. Sillä on nuo ominaisuudet, aivan kuten kaikella elollisella. En kuitenkaan menisi niin pitkälle, että kutsuisin sitä elolliseksi, mutta se on osa elämää.
Maaperä on jatkuvassa muutoksessa, se ei ole pysyvä. Suomessa se on kerrostunut rauta-ajan kuluessa, ja kaikki sitä vanhemmat maakerrokset ovat kadonneet, joten vanhimmat jäännökset, myös suomalaisen elinympäristön peruskivi, ovat peräisin tuolta ajalta. Ja miksei maata hoidettaisi ja ymmärrettäisi sen todellista merkitystä osana maamme historiaa ja geologiaa. Erityisesti Suomessa, jossa rakentamisen suhteen tilanne on melko hyvä, meillä on mielestäni suuria hyvin säilyneitä alueita ja kysymys saattaisi olla nyt ajankohtainen, kun meillä on aikaa: alettaisiin todella ajatella, mitä alueita ja minkälaisia maalajeja, ja missä meidän kannattaa tuoda esiin ajatusta maan hoitamisesta. Maaperän hoitaminen on tosiaan laaja käsite, mutta mielestäni tärkeää on jo se, että ihmisille kerrotaan tarpeesta hoitaa maata, ettei se säily itsestään Yleisen tietoisuuden lisääminen maaperää koskien auttaisi luultavasti meitä hoitamaan maaperää paremmin jatkossakin.
Niin, eikä kyse ole vain minun ajatuksistani, vaan joudun myös huomioimaan tämän työssäni nähdessäni jatkuvan muutoksen, jota ei tietenkään voi pysäyttää. Ei ole hyvä ajatus korostaa ylen määrin jääkautta tai muuta vanhaa, vaan uudet tilanteet täytyy ottaa myös huomioon ja mukautua niihin. Olen työni kautta niin tottunut näkemään muutosta, kun aikakaudet vaihtuvat ja katoavat vain päivissä tai jopa tunneissa. Aihe on minulle siis tärkeä.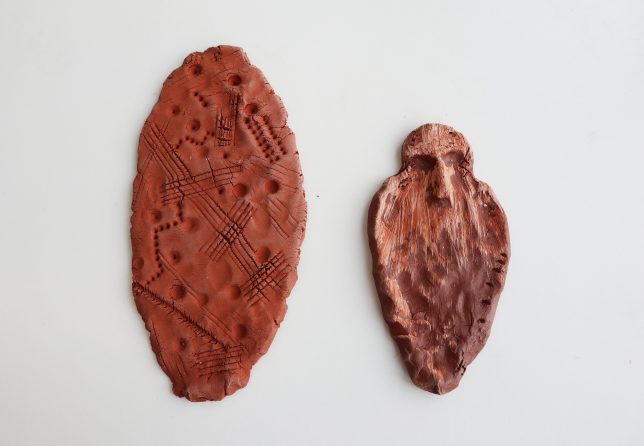 Read more about the Soil Care project